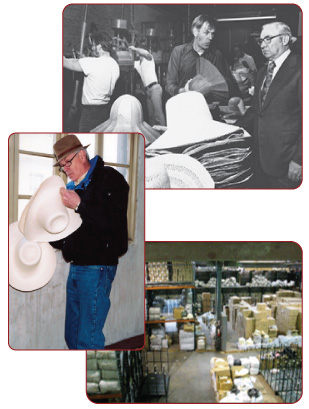 Jay Gerish Co. was created in 1964 by Jay Gerish. The company was a full scale hat manufacturer and dyer, located in Kearny, NJ, where we produced 12,000 hats per day. In 1975, we established our importing relationship with straw hat body suppliers in the People's Republic of China. To this day, we are still purchasing hat bodies from some of our original sources.
In 1982, Jay Gerish sold the manufacturing and dyeing operations. We are now, exclusively, an importer/exporter of hat bodies (straw and felt) and finished hats.
We moved our location in 1993 to West Caldwell, NJ, where we maintain 35,000 square feet of warehouse space. Our warehouse is sufficiently stocked to provide immediate delivery of merchandise.
After over 48 years in business, Jay Gerish Co. continues to be a family owned and operated establishment with extreme knowledge and experience in the headwear industry. As always, we are dedicated to providing our customers with the best quality products.